The Idaho Native Plant Society is a statewide non-profit organization dedicated to promoting interest in native plants and plant communities, and collecting and sharing information on all phases of the botany of native plants in Idaho. We seek to foster an understanding and appreciation of our native flora and to preserve this rich heritage for future generations.
It's Official-This week is Native Plant Appreciation Week!
Celebrate Your Appreciation for Native Plants by sending us a picture of your favorite native plant (and the name) to be posted on our website!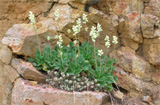 Heuchera spp.
Here is the latest issue of our statewide newsletter, Sage Notes.
Register now for the 2016 INPS Statewide Annual Meeting hosted by White Pine Chapter at Statewide Annual Meeting