Welcome to Our Chapter
Welcome to the Pahove Chapter of the Idaho Native Plant Society. We are located in Boise and support the citizens of the Treasure Valley and southwestern Idaho. 
2020/2021 Meetings/Presentations/Events
Stay tuned for a flyer with details and dates for the Annual Native Plant Sale in April 2021. The plant sale will feature online ordering with curbside pick up at the MK Nature Center.
Pahove Chapter's Wildflower Show
WHEN: Sunday May 9, 2021 (Mother's Day!) (11am-4pm)
WHERE: Idaho Botanical Garden (IBG), 2355 Old Penitentiary Rd, Boise, ID 83712.
COST: IBG admission fees will be charged, except for members of IBG and Reciprocal Admission Program
COVID MASKS: This event is public. IBG requires visitors to wear masks.
MORE INFORMATION: Call 208-954-1092
Our chapter will hold virtual meetings for our members for 2021. This format has been working pretty well, allowing us to still offer fascinating presentations to you. Thank you to our presenters! 
PRESENTATIONS WILL BE HELD VIRTUALLY ON THE 2ND TUESDAY OF EACH MONTH:
Our virtual presentations this season will be at 7pm on the 2nd Tuesday of each month, in keeping with our regular schedule. Presentations, with permission, will be posted onto Vimeo for viewing (see the links below).
Sept. 8-Don Mansfield and Barbara Ertter-Floristics in Southwestern Idaho
Oct.13-Roger Rosentreter-Cheatgrass In Idaho
Nov.10- Jack Nisbet-The Leiberg Family in Idaho, 1884-1907
Dec.8-   Ron Bitner-Pollinator-related topic/ Bee Biology, TBA
Jan.12-  John Keeley-Nexus Between Wildfire Catastrophes, Climate, and Population Growth
Feb.9- Carol Wilson-Mistletoe diversity and biogeography with a focus on dwarf mistletoe in the Idaho landscape
Mar.9-Josh Newman, USFS Forester-Bogus Basin Forest Management
April 13-Jennifer Sowerwine-Biocultural systems, food security, and eco-cultural restoration in the Klamath River Basin
May 11-Derek Antonelli-Conifers of Idaho
---
INPS PAHOVE CHAPTER
 NATIVE PLANT SALE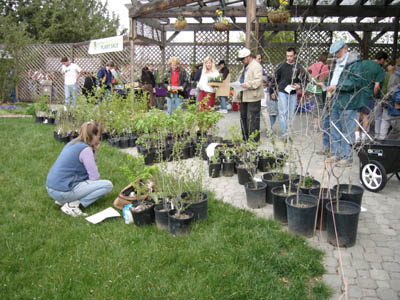 Stay tuned for a flyer with details and dates for the                            Annual Native Plant Sale in April 2021
---
Click below to discover previous plant sales
View previous years' sales lists. 
---
Board Position Openings
We are still in need of a volunteer to fill our board position (president). If you are interested in helping ensure that the Pahove Chapter of the Idaho Native Plant Society continues to connect with our community about native plants and plant communities, then please consider volunteering your time as a board member.
(Please read below to learn more about what our local chapter of the Idaho Native Plant Society does for our flora and fauna and our community.)
supports native plant demonstration gardens at schools, local businesses, in our city, and other surrounding areas across the Treasure Valley
supports native plant restoration projects, such as the Yankee Fork project, the Birds of Prey Center project, and the Boise River project
funds native plant related publications, such as the

Native Plant Coloring Book, Native Plants fandex,

and

Mirabilis brochure
funds teaching materials, such as field guides
sponsors plant workshops, such as the Astragalus, Brassicaceae, and Aquatics workshops
sponsors and staffs the Idaho Rare Plant Conference

contributes articles to our Sage Notes newsletter
hosts an annual Native Plant Sale

donates to our state's herbaria
donates to the MK Nature Center
donates to the Idaho Botanical Garden and its Idaho Native Plant Garden
donates to the ERIG (Education, Research, and Inventory Grant)
awards Education and Enrichment for members
offers monthly presentations (Oct.-April) on botany, nature, and other scientific topics
offers field tours/field trips to members

offers comaraderie
stays informed about conservation issues and shares information with our chapter members

stays connected with our community

and much more…




---
Wildflowers of Southern Idaho
C

o

l

o

r

i

n

g

Book

Take this coloring book along with you when you are hiking, photographing, or simply enjoying the outdoors. Published by the U.S. Fish and Wildlife Service and the Pahove Chapter of the Idaho Native Plant Society, this coloring book may be reproduced but not sold. Share it with every child you know!
In the Boise area (wildflower walks and trails)
In the Boise area (plant suppliers)
In the Boise area (landscapers)
Many other landscapers also may install buffalo grass and blue grama grass plugs. 
Officers
Karie Pappani, President – pahove.chapter.president [at] gmail.com
Susan Ziebarth, Vice President
Daniel Murphy, Secretary
Caroline Morris, Chapter Treasurer
Kirsten Severud, Chapter Membership
Karen Getusky, State Treasurer
Vicki Henderson, State Membership
Ray Corbin, Member at Large
Barbara Ertter, Member at Large
Graham McBride, Member at Large
Write to the Pahove chapter at pahove.chapter@gmail.com