Welcome to Our Chapter
Welcome to the Pahove Chapter of the Idaho Native Plant Society. We are located in Boise and support the citizens of the Treasure Valley and beyond. 
2020/2021 Meetings/Presentations
Unfortunately, due to the current situation with the coronavirus, chapter presentations and events were put on hold. We are hopeful that regular presentations will resume this fall, but we will have to wait and see. Our members only kick off event is held in September. Our regular line-up of presentations will begin in October and is open to members and anyone who is interested in attending. Presentations have traditionally taken place on the second Tuesday of each month from October through April at the MK Nature Center at 7pm. The MKNC is located at 600 S. Walnut Street behind Fish and Game headquarters. Refreshments and light snacks are served.
INPS PAHOVE CHAPTER
 NATIVE PLANT SALE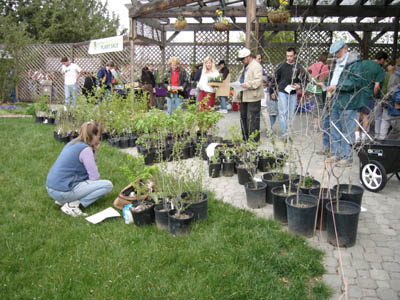 ---
Click below to discover previous plant sales
View previous years' sales lists. 
---
Board Position Openings
We are still in need of volunteers to fill our board positions (president). If you are interested in helping ensure that the Pahove Chapter of the Idaho Native Plant Society continues to connect with our community about native plants and plant communities, then please consider volunteering your time as a board member.
(Please read below to learn more about what our local chapter of the Idaho Native Plant Society does for our flora and fauna and our community.)
supports native plant demonstration gardens at schools, local businesses, in our city, and other surrounding areas across the Treasure Valley
supports native plant restoration projects, such as the Yankee Fork project, the Birds of Prey Center project, and the Boise River project
funds native plant related publications, such as the

Native Plant Coloring Book, Native Plants fandex,

and

Mirabilis brochure
funds teaching materials, such as field guides
sponsors plant workshops, such as the Astragalus, Brassicaceae, and Aquatics workshops
sponsors and staffs the Idaho Rare Plant Conference

contributes articles to our Sage Notes newsletter
hosts an annual Native Plant Sale

donates to our state's herbaria
donates to the MK Nature Center
donates to the Idaho Botanical Garden and its Idaho Native Plant Garden
donates to the ERIG (Education, Research, and Inventory Grant)
awards Education and Enrichment for members
offers monthly presentations (Oct.-April) on botany, nature, and other scientific topics
offers field tours/field trips to members
offers comaraderie

 

stays informed about conservation issues and shares information with our chapter members
stays connected with our community

and much more…




---
Wildflowers of Southern Idaho
C

o

l

o

r

i

n

g

Book

Take this coloring book along with you when you are hiking, photographing, or simply enjoying the outdoors. Published by the U.S. Fish and Wildlife Service and the Pahove Chapter of the Idaho Native Plant Society, this coloring book may be reproduced but not sold. Share it with every child you know!
In the Boise area (plant suppliers)
In the Boise area (landscapers)
Many other landscapers also may install buffalo grass and blue grama grass plugs. 
Officers
Karie Pappani, President – pahove.chapter.president [at] gmail.com
Susan Ziebarth, Vice President
Daniel Murphy, Secretary
Caroline Morris, Chapter Treasurer
Kirsten Severud, Chapter Membership
Karen Getusky, State Treasurer
Vicki Henderson, State Membership
Ray Corbin, Member at Large
Barbara Ertter, Member at Large
Write to the Pahove chapter at pahove.chapter@gmail.com