Welcome to Our Chapter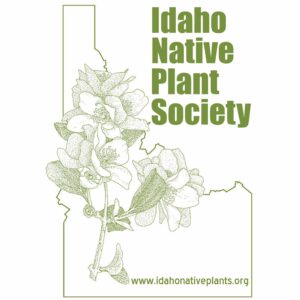 Welcome to the Pahove Chapter of the Idaho Native Plant Society. We are located in Boise and support the citizens of the Treasure Valley and southwestern Idaho.  Anyone interested in botany, nature, wildlife, landscaping, gardening, hiking, photography and/or being outdoors are very welcome to join.
 PAHOVE CHAPTER
 WILDFLOWER PLUS SHOW
at the Idaho Botanical Garden on
SUNDAY, MAY 8, 2022
10am-3pm

2022 Presentations & Activities
Chapter presentations for the 2021/2022 season have come to an end, but please be sure to join us again next season in October 2022. We'll be optimistic and consider in person meetings, as allowed, starting in the fall. Also, we plan to keep you in the know and offer additional monthly activities, so stayed tuned for more to come.
Oct. 12th- Galls of southwestern Idaho by Samuel DeGrey
Nov 9th-Restoration plant material development in the Great Basin region of the United States: A History and Comparison of Research Approaches by Francis Kilkenny
Dec 14th-Barbara Ertter-New Discoveries and What's Cool in the Boise Front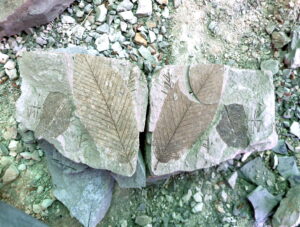 Feb 8-Peggy Owell-BLM National Plant Conservation Program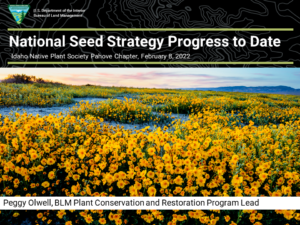 Mar 8-Lynn Kinter-Idaho's Wicked Plants: Painful, Poisonous, & Pernicious Species
April 12-Israel Borokini-An unconventional career journey from Warm Tropical to Cold Desert Ecosystems
2020/2021 Presentations 
Sept. 8-Don Mansfield and Barbara Ertter-Floristics in Southwestern Idaho
Oct.13-Roger Rosentreter-Cheatgrass In Idaho
Nov.10- Jack Nisbet-The Leiberg Family in Idaho, 1884-1907
Dec.8-   Ron Bitner-Pollinator-related topic/ Bee Biology, TBA
Jan.12-  John Keeley-Nexus Between Wildfire Catastrophes, Climate, and Population Growth
Feb.9- Carol Wilson-Mistletoe diversity and biogeography with a focus on dwarf mistletoe in the Idaho landscape
Mar.9-Josh Newman, USFS Forester-Bogus Basin Forest Management
April 13-Jennifer Sowerwine-Biocultural systems, food security, and eco-cultural restoration in the Klamath River Basin
May 11-Derek Antonelli-Conifers of Idaho
---
INPS PAHOVE CHAPTER
 NATIVE PLANT SALE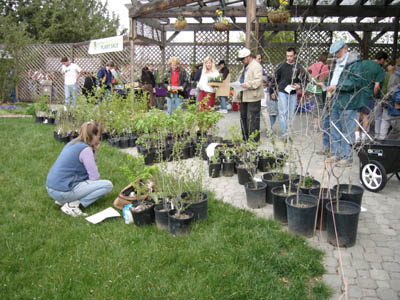 Click below to learn more about previous plant sales!
---
Board Position Openings
We are in need of a volunteer to fill our board position for Secretary.
If you are interested in helping ensure that the Pahove Chapter of the Idaho Native Plant Society continues to connect with our community about native plants and plant communities, then please consider volunteering your time as a board member.
(Please read below to learn more about what our local chapter of the Idaho Native Plant Society does for our flora and fauna and our community.)
supports native plant demonstration gardens at schools, local businesses, in our city, and other surrounding areas across the Treasure Valley
supports native plant restoration projects, such as the Yankee Fork project, the Birds of Prey Center project, and the Boise River project
funds native plant related publications, such as the Native Plant Coloring Book, Native Plants fandex, and Mirabilis brochure
funds teaching materials, such as field guides
sponsors plant workshops, such as the Astragalus, Brassicaceae, and Aquatics workshops
sponsors and staffs the Idaho Rare Plant Conference

contributes articles to our Sage Notes newsletter
hosts an annual Native Plant Sale

hosts an annual Wildflower Plus Show

donates to our state's herbaria
donates to the MK Nature Center
donates to the Idaho Botanical Garden and its Idaho Native Plant Garden
donates to the ERIG (Education, Research, and Inventory Grant)
awards Education and Enrichment for members
offers monthly presentations (Oct.-April) on botany, nature, and other scientific topics
offers field tours/field trips to members

offers comaraderie
stays informed about conservation issues and shares information with our chapter members

stays connected with our community

and much more…




---
Wildflowers of Southern Idaho
C

o

l

o

r

i

n

g

Book

Take this coloring book along with you when you are hiking, photographing, or simply enjoying the outdoors. Published by the U.S. Fish and Wildlife Service and the Pahove Chapter of the Idaho Native Plant Society, this coloring book may be reproduced but not sold. Share it with every child you know!
In the Boise area (wildflower walks and trails)
In the Boise area (plant suppliers)
In the Boise area (landscapers)
Many other landscapers also may install buffalo grass and blue grama grass plugs. 
Officers
Karie Pappani, President – pahove.chapter.president [at] gmail.com
Susan Ziebarth, Vice President, Plant Sale Manager
VACANT, Secretary
Don Essig, Chapter Treasurer
Kirsten Severud, Chapter Membership
Karen Getusky, State Treasurer
Vicki Henderson, State Membership, Chapter IT Committee
Ray Corbin, Member at Large
Barbara Ertter, Member at Large
Peggy Faith, Education & Outreach 
Anna Lindquist, Social Media: Instagram & Facebook
Jody Hull, Social Media: Facebook and Sage Notes Layout Designer
Write to the Pahove chapter at pahove.chapter@gmail.com