Sept. 8, 2020-Don Mansfield and Barbara Ertter-Floristics in Southwestern Idaho
https://vimeo.com/456736769/2aff2d038f
Oct.13, 2020-Roger Rosentreter-Cheatgrass In Idaho
https://us02web.zoom.us/rec/play/o0YEkOZCPgrt9N5m-ffLPaDKHqsTwPKegsk0UBzoHITqfW8Hju03zksQwaRfJ_sJjRDvPVMQr6NiCOGo.hLWN4tGOuhKCU108?continueMode=true&_x_zm_rtaid=0PYo5rZ-SfOsdrGnYEs2Zw.1617044069240.b415060d98abef4d1e57593b457a73d5&_x_zm_rhtaid=94
Annual grasses that are invading the western N.A.
Cheatgrass in North America (Osher BSU presentation)
Nov.10, 2020- Jack Nisbet-The Leiberg Family in Idaho, 1884-1907
Dec.8, 2020- Ron Bitner-Pollinator-related topic/ Bee Biology, TBA
Jan.12, 2021- John Keeley-Nexus Between Wildfire Catastrophes, Climate, and Population Growth
Feb.9, 2021- Carol Wilson-Mistletoe diversity and biogeography with a focus on dwarf mistletoe in the Idaho landscape
Mar.9, 2021-Josh Newman, USFS Forester-Bogus Basin Forest Management
April 13, 2021-Jennifer Sowerwine-Biocultural systems, food security, and eco-cultural restoration in the Klamath River Basin
May 11, 2021-Derek Antonelli-Conifers of Idaho
Oct. 12, 2021- Galls of southwestern Idaho by Samuel DeGrey
Nov. 9, 2021- Restoration plant material development in the Great Basin region of the United States: A History and Comparison of Research Approaches by Francis Kilkenny
Dec. 14, 2021- Barbara Ertter-New Discoveries and What's Cool in the Boise Front 
Jan. 11, 2022- Pat Fields-A Look at the Miocene Flora of the Greater Idaho Regionhttps://youtu.be/jr443oNszS0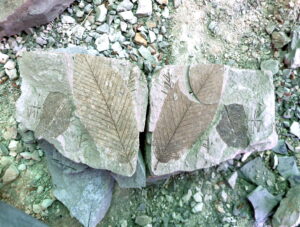 Feb. 8, 2022- Peggy Owell-BLM National Plant Conservation Program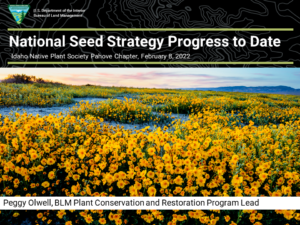 Mar. 8, 2022- Lynn Kinter-Idaho's Wicked Plants: Painful, Poisonous, & Pernicious Species
https://www.youtube.com/watch?v=37r79DyCDCA
Apr. 12, 2022- Israel Borokini-An unconventional career journey from Warm Tropical to Cold Desert Ecosystems
Nov. 8, 2022–Rescheduled for Wed., Nov.16, 2022– Dr. Megan Cattau, Assistant Professor in Human-Environment Systems at Boise State University- Mapping of Invasive Species with Unoccupied Aerial Systems (UAS)
Dec. 13, 2022- Rob Laport, Assistant Professor of Biology & Director of the Harold M. Tucker Herbarium (CIC) at the College of Idaho- Hidden biodiversity: Genome duplication shapes pollinator visitation, herbivore specialization, and plant community structure
Jan. 10, 2023- Michael Mancuso, state INPS President- Made in Idaho: Idaho's Endemic Plant Species
Feb. 14, 2023- Ron Bitner/Amy Dolan-Bees of the Treasure Valley
Mar. 14, 2023- Matt Lavin- The sagebrush sea in southeastern Idaho, Montana, and Wyoming: composition, distinction, and conservation value
Apr. 11, 2023- Bob Moseley- Revisiting Shangri-La: Photographing a Century of Environmental and Cultural Change in the Mountains of Southwest China.