The governor of Idaho has declared the week of April 29, through May 5, 2007 as Native Plant Appreciation Week.
Native Plant Appreciation Week is a joint effort by the Washington Native Plant Society, Oregon Native Plant Society and Idaho Native Plant Society. There is a concerted effort being put forth in each state to make people aware of native plants.
Chapters within INPS who are carrying out activities for that week are:
Kinnikinnick Chapter — organizing a special field trip and special tours of the arboretum.
White Pine Chapter — inviting the public to a field trip on a member's property.
Calypso Chapter — working with local libraries to put up displays promoting books and information on native plants. The chapter is also conducting an outreach program to the biology instructors at the local high schools.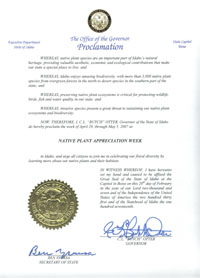 Full size image (1600 x 2226)